The Seed That Yearns to be a Tree
Fr. Lloyd Baugh SJ - June 12, 2021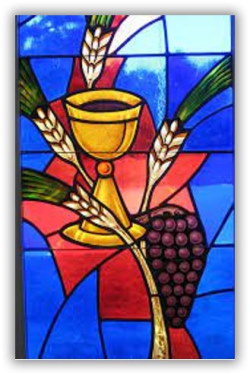 There may be two main ways to get religion wrong. One is to presume that it has nothing to do with the material world.  The other mistake is to assume that if religion has nothing to do with the material world, then it has nothing to offer because that's where people find themselves.
Jesus issues an invitation to a third way.  It's the way of the farmer, who views the ground not only as dirt, but as the matrix of all hope.  For the ground – coupled with his own purposeful activity – is the medium of a harvest through God's holy desire to bring forth life.  The seed sleeps in the dark soil, dying to its original being to emerge as something greater than itself.  This world is the soil of our lives.  It's where potential meets possibility and possibility the movement toward perfection.
You and I seek grace, we desire its transformative effect, because we're acorns with oak trees inside with a taste for who we're meant to be.  Planted in the soil of this world, with proper care and attention, the virtues in our spiritual genes will emerge and we'll assume our place in the grove of those giants, the saints. It's not only simple to do. It's God's plan.
Saint Paul says mortal life keeps us away from the fullness of life with God.  But he doesn't advocate throwing our lives away.  Rather, he urges we invest them, with courage, walking by faith. From here to eternity is never as far as we imagine.
Alice Camille, edited by Lloyd Baugh SJ
---
This weekend, 12-13 June, we celebrate the 1st of 3 weekends of First Communions at St. Monica's.  In our words and actions, let us always teach our children the powerful and essential truth in these words of St. Thérèse of Lisieux.
Christ has no body now on earth but yours.  Yours are the only hands with which He can do his work.  Yours are the only feet with which He can go about the world.  Ours are the only eyes through which His compassion can shine forth upon a troubled world.
Christ has no body on earth but YOU.